Empowering the Next Generation of Nurses
It's more than just a doll – use The Nurse Dolls to introduce science-, technology-, engineering-, and mathematics-related concepts to children in a way that's fun, engaging, and inspiring.
The Nurse Dolls in the Media
Our Story
About Us
Why The Nurse Dolls?
100% owned and operated by a mom of 3 who is an African American, nurse and veteran. Support a minority mom, nurse and veteran.
1, 000, 000 nurse shortage by 2030, according to Nurse.com. We need more nurses in the USA.
70% of nurse are caregivers at home. Having a nurse in the family decreases your chance of nursing home placement.
Support 1 of 11 doll companies independently owned by a minority woman in the USA.
Read More
The History of The Nurse Dolls
The Nurse Dolls was developed into a business when her children asked, "Mom what do you do at work? Are You A Doctor or a Dentist?" Dr. Nicole M. Brown, RN, DNP began. The Nurse Dolls after she was unable to find products to explain nursing and STEM (Science, Technology, Engineering & Math) careers for children.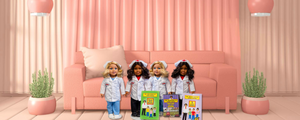 The Highest Paid Careers in Nursing
The Nurse Dolls
Our Mission
To Educate the World through the Art & Science of Nursing.